Access Salesforce in Excel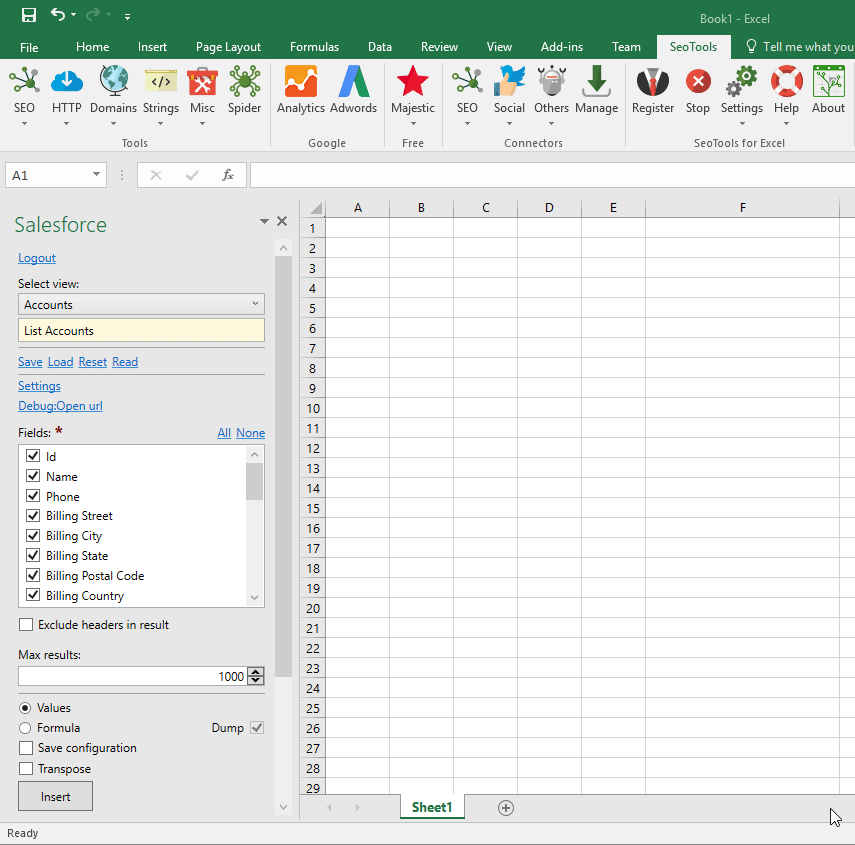 Accounts
List Accounts
Fields
Id
Name
Phone
Billing Street
Billing City
Billing State
Billing Postal Code
Billing Country
Shipping Street
Shipping City
Shipping State
Shipping Postal Code
Phone
Fax
Account Number
Website
PhotoUrl
Sic
Industry
Annual Revenue
Number Of Emploeyees
Ownership
Description
Rating
Created
Last Modified
UpsellOpportunity
Campaigns
List Campaigns
Fields
Id
Name
ParentId
Type
Status
StartDate
EndDate
Expected Revenue
Budgeted Cost
Actual Cost
Expected Response
Sent
IsActive
Description
Leads
Converted Leads
Contacts
Responses
Opportunities
Won Opportunities
Amount All Opportunities
Amount Won Opportunities
CreatedDate
LastModifiedDate
Leads
List Leads
Fields
Id
Name
Last Name
First Name
Salutation
Title
Company
Street
City
State
Postal Code
Country
Phone
Mobile Phone
Fax
Email
Website
Photo Url
Description
Lead Source
Status
Industry
Rating
Annual Revenue
Number Of Employees
Converted
ConvertedDate
ConvertedContactId
CreatedDate
LastModifiedDate
LastActivityDate
EmailBouncedReason
EmailBouncedDate
Cases
List Cases
Fields
Id
CaseNumber
ContactId
AccountId
Asset Id
Parent Id
Type
Status
Reason
Origin
Subject
Priority
Description
Closed
Closed
Escalated
Supplied Name
Supplied Email
Supplied Phone
SuppliedC ompany
OwnerId
Created
CreatedById
Last Modifie
LastModified By
Contact Phone
Contact Mobile
Contact Email
Contact Fax
Contacts
List Contacts
Fields
Id
Account Id
First Name
Last Name
Salutation
Name
Deleted
Mailing Street
Mailing City
Mailing State
Mailing Postal Code
Mailing Country
Other Street
Other City
Other State
Other Postal Code
Other Country
Phone
Fax
Mobile Phone
Home Phone
Other Phone
Assistant Phone
Reports To
Email
Title
Department
Assistant Name
Lead Source
Birthdate
Description
Owner Id
Created
CreatedById
Last Modified
IsEmailBounced
Email Bounced Reason
Email Bounced Date
Photo Url
Events
List Events
Fields
Id
Who Id
What Id
Subject
Location
All Day
Time
Duration (min)
StartDateTime
EndDateTime
Description
AccountId
OwnerId
Private
Show As
Deleted
Is Child
Group Event
Group Event Type
Created
Created By
Last Modified
Last ModifiedBy Id
Archived
Recurrence
Recurrence Start
Recurrence End
Recurrence Type
Recurrence Interval
Recurrence Instance
Reminder Time
Reminder Set
Event Subtype
Assets
List Assets
Fields
Id
Contact Id
Account Id
Parent Id
Root Asset Id
Product2Id
Product Code
Competitor Product
Created
Created By Id
Last Modified
Last Modified By Id
Deleted
Name
Serial Number
Installed
Purchased
Usage End
Status
Price
Quantity
Description
OwnerId
Asset Provided By Id
Asset Serviced By Id
Internal
Asset Level
SKU
Last Viewed
Last Referenced Date
Opportunities
List Opportunities
Fields
Id
Deleted
Account Id
Private
Name
Description
Stage Name
Amount
Probability
Expected Revenue
Total Opportunity Quantity
Close Date
Type
Next Step
Lead Source
Closed
Is Won
Forecast Category
Forecast Category Name
CampaignId
Has Opportunity Line Item
Pricebook2Id
Owner Id
Created
Created By Id
Last Modified Date
Last ModifiedBy Id
Last Activity Date
Fiscal Quarter
Fiscal Year
Fiscal
Last Viewed Date
Last Referenced
Has Open Activity
Has Overdue Task
Contracts
List Contracts
Fields
Id
AccountId
Pricebook2Id
Owne rExpiration Notice
Start
End
Billing Street
Billing City
Billing State
Billing Postal Code
Billing Address
Contract Term
Owner Id
Status
Company Signed Id
Company Signed
Customer Signed Id
Customer Signed Title
Customer Signed
Special Terms
Activated By Id
Activated
StatusCode
Description
Deleted
Contract Number
Last Approved
Created
Created By
LastM odified
Last Modified By Id
Last Activity
Last Viewed
LastReferencedDate
---
Configuration
This connector requires you to enter a server instance in the settings panel. In order to retrieve it, log in to your Salesforce account via your browser and look at the address bar. What you see between "https://" and the first period is the name of your server instance (in this example it's "eu8").

Add from Manager
The Salesforce Connector is available in the Connectors Manager in the top ribbon:


Select the CRM category and install Salesforce: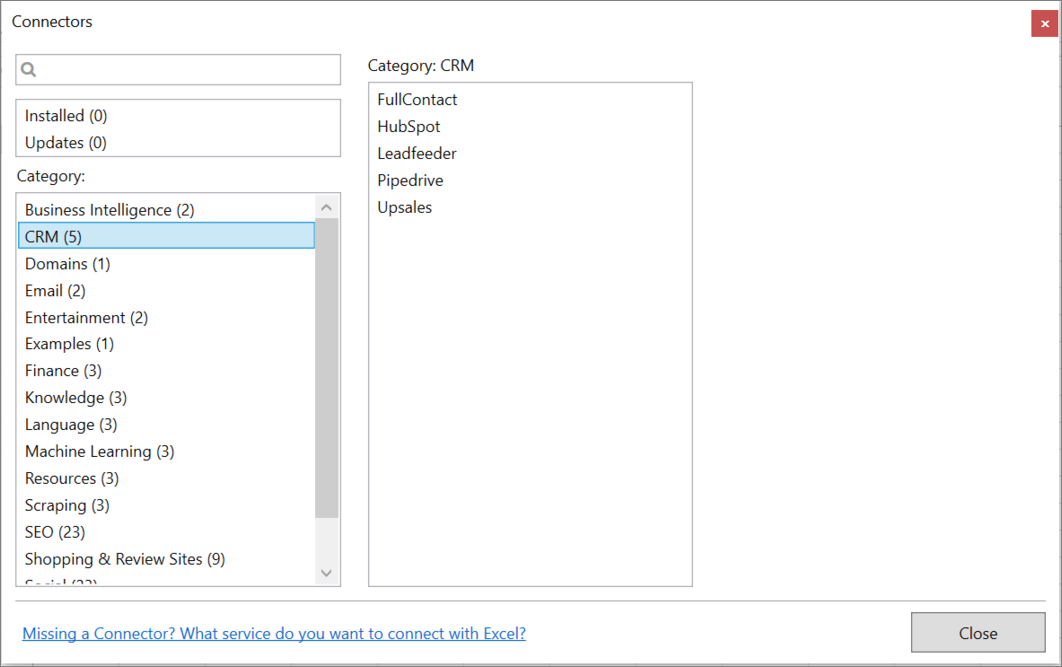 ---
Contribute
This connector suite is open-sourced on GitHub.
---
See
Official Documentation
Related Functions
---