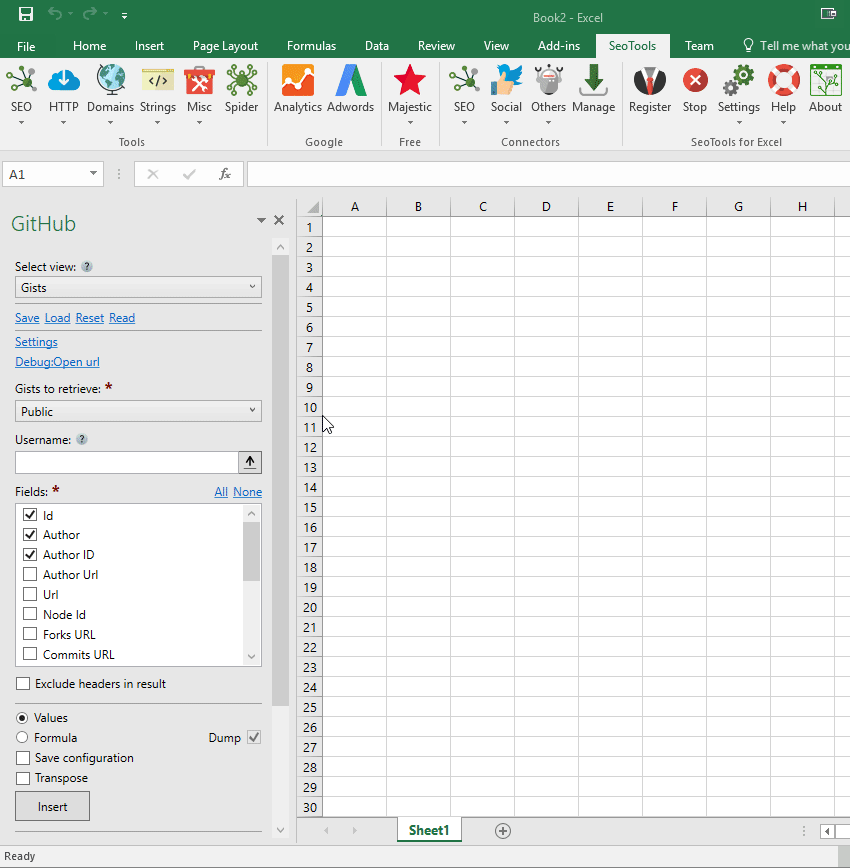 Gists
Parameters
Gists to retrieve
Username - Only required if "User's gists" is selected
Fields
Id
Author
Author ID
Author Url
Url
Node Id
Forks URL
Commits URL
Pull URL
Push URL
Html Url
Comments_url
Public
Created
Updated
Description
Comments
Organizations
Parameters
Organizations to retrieve
Username - Only required if "User's organizations" is selected
Fields
Id
Name
Description
Node ID
Repos URL
Events URL
Hooks URL
Issues URL
Members URL
Public members URL
Avatar URL
User Followers
Parameters
Organizations to retrieve
Username
Fields
Username
Id
URL
Type
Avatar URL
Node Id
Gravatar ID
API URL
Followers URL
Following URL
Gists URL
Starred URL
Subscriptions URL
Organizations URL
Repos URL
Events URL
Received Events URL
Search Repositories
Parameters
Fields
Id
Node ID
Name
Full Name
Owner
Owner ID
Owner Avatar URL
Owner Type
Private
URL
Description
Fork
API Url
Created
Updated
Pushed
Homepage
Size
Starred
Watched
Language
Forks
Open Issues
Master Branch
Default Branch
Score
Repositories
Parameters
Gists to retrieve
Username/Organization name - Only required if "User's/organization's repositories " is selected
Fields
Id
Node ID
Name
Full Name
Owner
Owner ID
Owner Avatar URL
Owner Type
Private
URL
Description
Fork
API Url
Created
Updated
Pushed
Homepage
Size
Starred
Watched
Language
Forks
Open Issues
Master Branch
Default Branch
Score
Repository Commits
Parameters
Owner
Repository
Filter by author
Fields
API Url
Sha
Node Id
URL
Comments Url
Commit Url
Date
Message
Comment Count
Verified
Verification Reason
Author
Author Id
Author Avatar URL
Author URL
Author Type
Committer
Committer Id
Committer Avatar Url
Committer URL
Committer Type
Repository Collaborators
Parameters
Owner
Repository
Filter collaborators
Fields
Username
Id
URL
Type
Avatar URL
Node Id
Gravatar ID
API URL
Followers URL
Following URL
Gists URL
Starred URL
Subscriptions URL
Organizations URL
Repos URL
Events URL
Received Events URL
Pull permissions
Push permissions
Admin permissions
Repository Releases
Fields
Url
Html Url
Assets Url
Upload Url
Tarball Url
Zipball Url
Id
Node Id
Tag Name
Target Commitish
Name
Body
Draft
Prerelease
Created
Published
Author
Author Id
Author URL
Author Avatar URL
Repository Webhooks
Parameters
Fields
Id
Name
Url
Test Url
Ping Url
Events
Created
Updated
Active
Hook URL
Content Type
Repository Branches
Parameters
Fields
Name
URL
SHA
Protected
Protection URL
Repository Forks
Parameters
Fields
Id
Node Id
Name
Full Name
Description
Owner
Owner Id
Owner URL
Private
Fork
URL
Forks
Stargazers
Watchers
Size
Default Branch
Open Issues
Has Issues
Has Wiki
Has Pages
Has Downloads
Archived
Pushed At
Created
Updated
Subscribers
Network Size
License Key
License Name
License Url
Repository Comments
Parameters
Fields
ID
API Url
Node ID
URL
Body
Path
Position
Line
Commit ID
User
User ID
User URL
User Node II
User Type
Avatar URL
Created
Updated
Issues
Parameters
Gists to retrieve
Filter by state
Fields
Id
Html Url
Node Id
Comments_url
Public
Created
Updated
Description
Comments
---
Access
Add from Manager
The GitHub Connector is available in the Connectors Manager in the top ribbon:


Select the Programming category and install GitHub: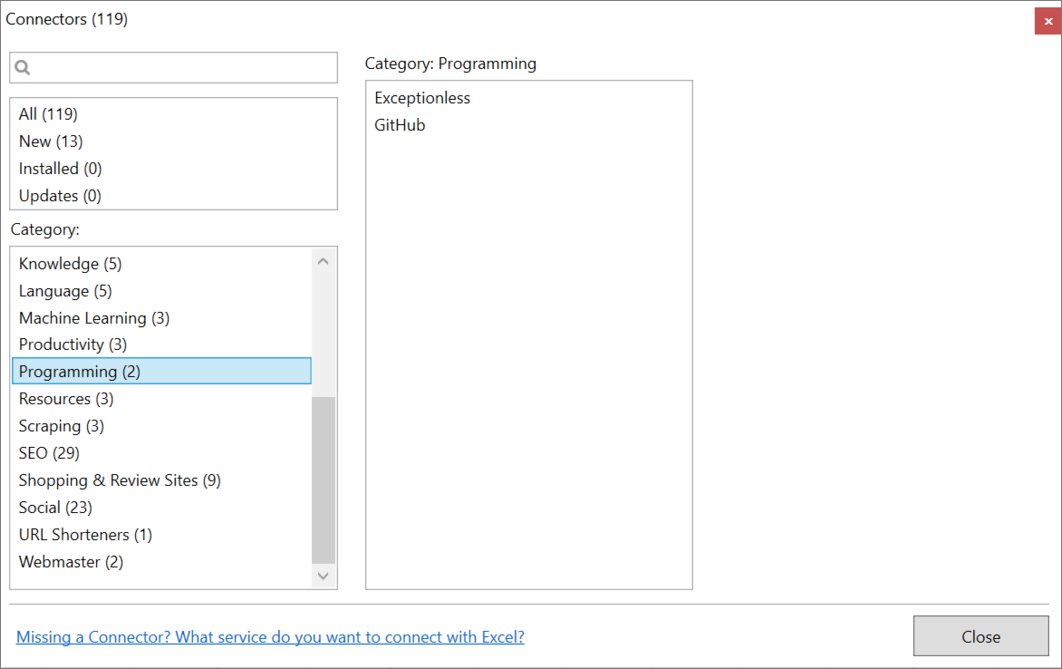 Access Token
You need to create an access token on GitHub to be able to use this connector.
Click here to create one. In the token creation page, check the following boxes: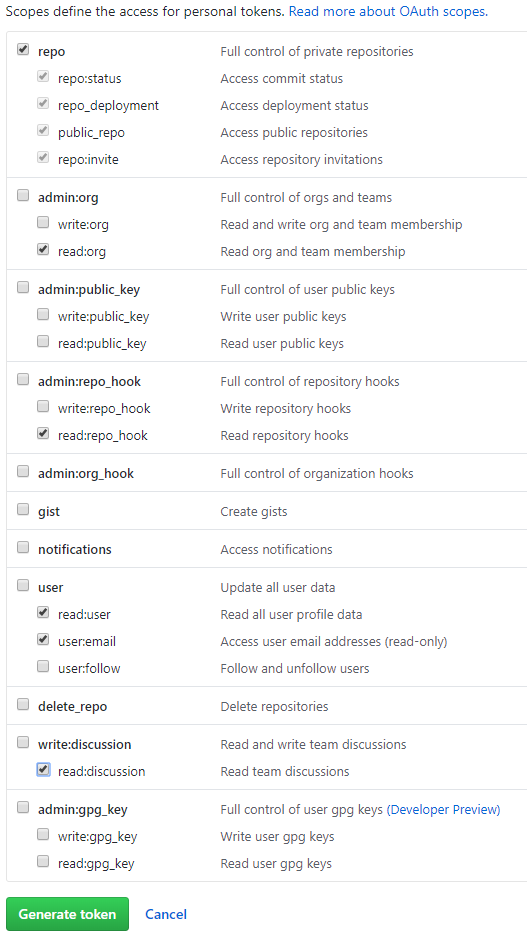 ---
Contribute
This connector suite is open-sourced on GitHub.
---
See
Official Documentation
Resources
---