Access Yahoo Finance in Excel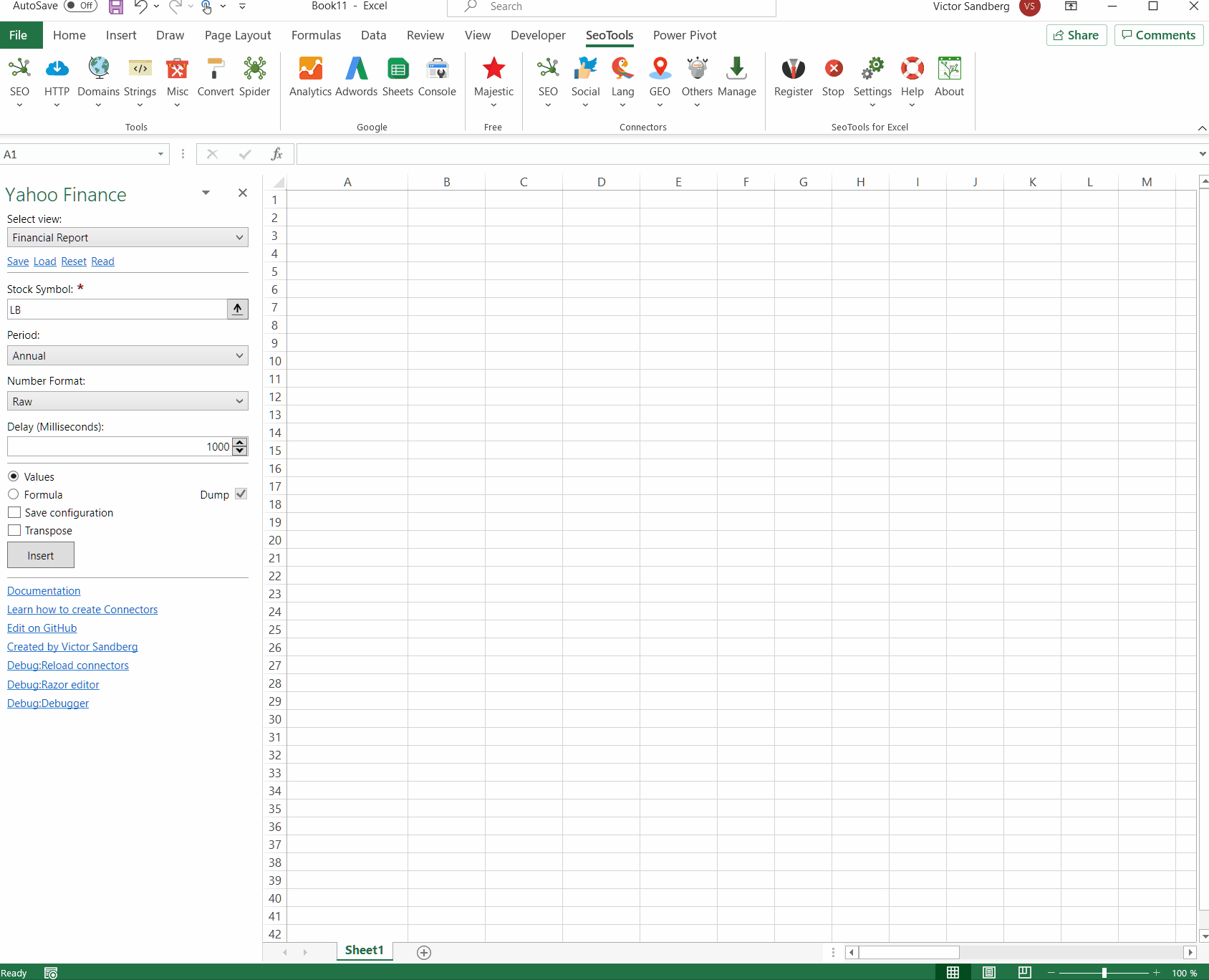 Financial Report
Returns financial data about a stock broken down by period (annual or quarterly). The fields varies for each stock and is taken directly from Yahoo Finance.
Financial Summary
Returns a summary about a stock.
Fields
Current Price
Target High Price
Target Low Price
Target Mean Price
Target Median Price
Recommendation Mean
Number of Analyst Opinions
Total Cash
Total Cash per Share
EBITDA
Total Dept
Quick Ratio
Current Ratio
Total Revenue
Dept to Equity
Revenue per Share
Return on Assets
Return on Equity
Gross Profits
Free Cashflow
Operating Cashflow
Earnings Growth
Revenue Growth
EBITDA Margins
Operating Margins
Profit Margins
Financial Currency
Key Statistics
Returns a list of key statistics about a stock.
Fields
Price Hint
Enterprise Value
Profit Margins
Float Shares
Shares Outstanding
Shares Short
Shares Short Prior Month
Shares Short Previous Month Date
Date Short Interest
Shares Percent Shares Out
Held Percent Insiders
Held Percent Institutions
Short Ratio
Short Percent of Float
Beta
Implied Shares Outstanding
Morning Star Overall Rating
Morning Star Risk Rating
Book Value
Price to Book
Annual Report Expense Ratio
YTD Return
Beta3 Year
Total Assets
Yield
Three Year Average Return
Five Year Average Return
Price To Sales Trailing 12 Months
Last Fiscal Year End
Next Fiscal Year End
Most Recent Quarter
Earnings Quarterly Growth
Revenue Quarterly Growth
Net Income To Common
Trailing EPS
Forward EPS
Peg Ratio
Last Split Factor
Last Split Date
Enterprise to Revenue
Enterprise to EBITDA
52 Week Change
Sand P52 Week Change
Last Dividend Value
Last Dividend Date
Last Cap Gain
Annual Holdings Turnover
Profile Summary
Returns basic information about a stock and different risk levels.
Fields
Address
City
State
Zip
Country
Phone
Website
Industry
Sector
Employees
Audit Risk
Board Risk
Compensation Risk
Share Holder Rights Risk
Overall Risk
Major Holders Breakdown
Returns basic information the owners of the stock.
Fields
Percent of Shares Held by All Insider
Percent of Shares Held by Institutions
Percent of Float Held by All Insider
Number of Institutions Holding Shares
Key Executives
Returns basic information the executives of a company.
Fields
Name
Title
Pay
Exercised
Unexercised
Born
---
Access
Add from Manager
The Yahoo Finance Connector is available in the Connectors Manager in the top ribbon:


Head over to the Finance Category and install Yahoo Finance: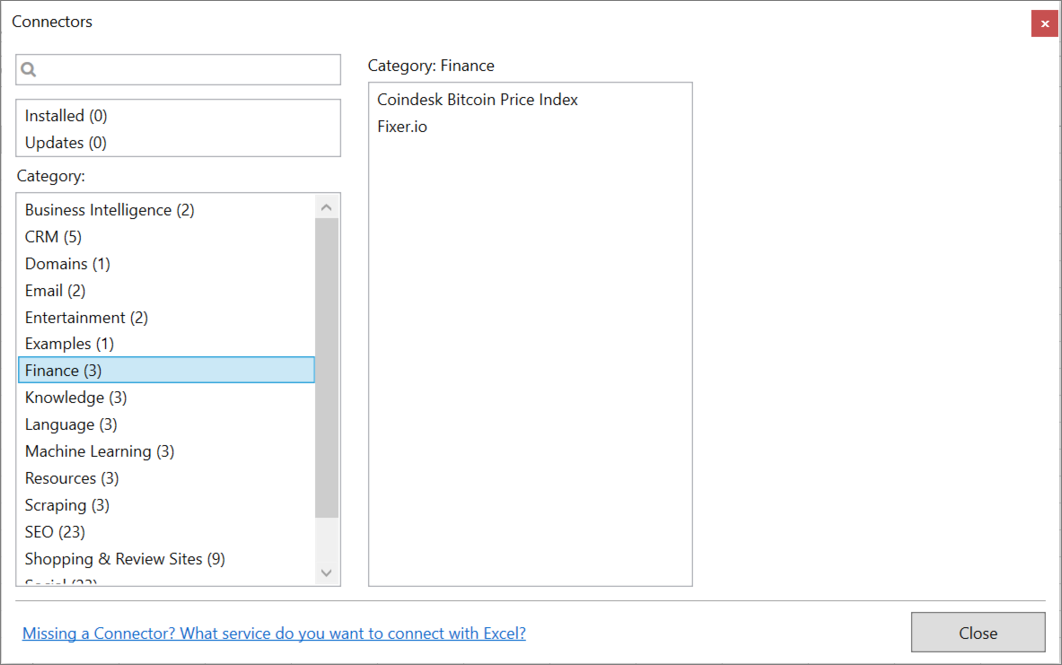 ---
Contribute
This connector suite is open-sourced on GitHub.
---
See
Related Functions
Resources
---