Access Cloudflare in Excel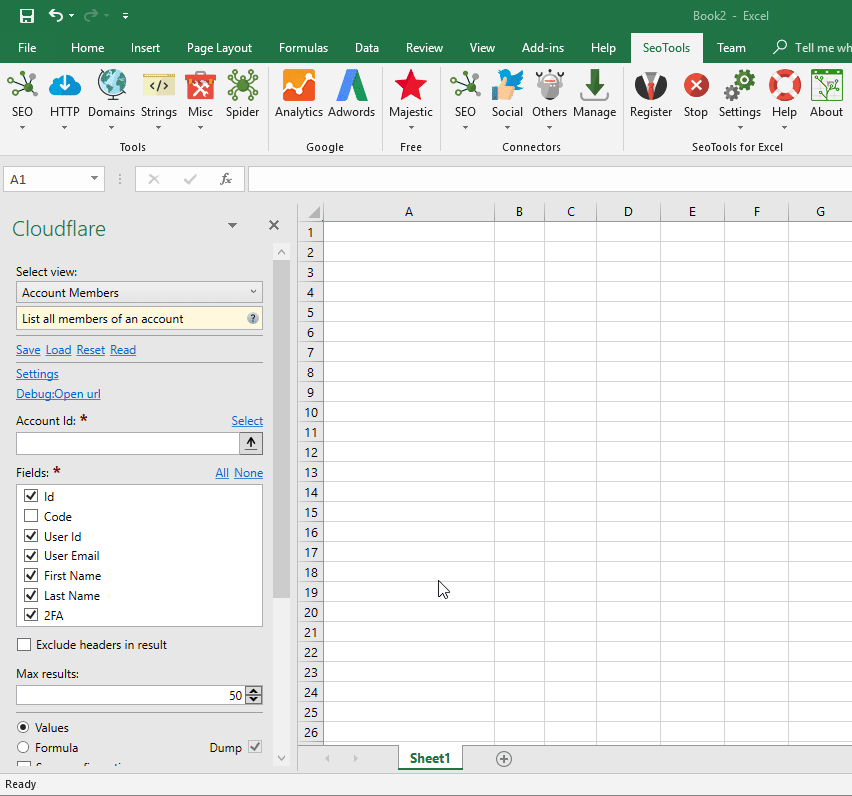 Accounts
List all accounts you have ownership or verified access to
Fields
Account Members
List all members of an account
Parameters
Fields
Id
Code
User Id
User Email
First Name
Last Name
2FA - Two-factor authentication enabled
Account Roles
Get all available roles for an account
Parameters
Fields
Id
Code
Description
Analytics R
Analytics E
Billing R
Billing E
Cache purge R
Cache purge E
DNS R
DNS E
DNS records R
DNS records E
lb R
lb E
Logs R
Logs E
Organization R
Organization E
SSL R
SSL E
WAF R
WAF E
Zones R
Zones E
Zone settings R
Zone settings E
The R next to some fields means READ PERMISSIONS and E means EDIT PERMISSIONS
Zones
List, search, sort, and filter your zones
Parameters
Filter by domain
Status
Order by
Direction
Fields
Id
Name
Owner Id
Owner Email
2FA Enabled
Zone settings
Available settings for your user in relation to a zone
Parameters
Fields
Id
Value
Editable
Modified On
Load Balancers
List configured load balancers
Parameters
Fields
Id
Created
Modified
Description
Name - The DNS hostname to associate with your Load Balancer
Enabled
Ttl - Time to live (TTL) of the DNS entry for the IP address returned by this load balancer.
Fallback Pool - The pool ID to use when all other pools are detected as unhealthy.
Default Pools - A list of pool IDs ordered by their failover priority.
Region Pools - A mapping of region/country codes to a list of pool IDs (ordered by their failover priority) for the given region.
Pop Pools - (Enterprise only): A mapping of Cloudflare PoP identifiers to a list of pool IDs (ordered by their failover priority) for the PoP (datacenter)
Proxied - Whether the hostname should be gray clouded (false) or orange clouded (true).
DNS records for a zone
List, search, sort, and filter a zones' DNS records.
Parameters
Zone Id
Record Type
Name - DNS record name
Content - DNS record content
Match - Whether to match all search requirements or at least one (any)
Fields
Id
Type
Name
Content
Proxiable
Proxied
Ttl - Time-to-live
Locked
Zone Id
Zone Name
Created On
Modified On
Billing history
Access your billing history object
Fields
Id
Type
Action
Description
Occurred At
Amount
Currency
Zone
User subscriptions
Lists all user's subscriptions
Fields
State
Price
Currency
Zone Id
Zone Name
Frequency
Rate Plan Id
Rate Plan Public Name
Rate Plan Currency
Rate Plan Scope
Externally Managed
Current Period End
Current Period Start
Cloudflare IP details
Get Cloudflare IPs
Fields
Cloudflare CA certificates
List all existing Cloudflare-issued Certificates for a given zone. Note: this
Parameters
Fields
Id
Certificate
Hostnames
Expires On
Request Type
Requested Validity
Csr
---
Access
You will need to create an API key and enter it in the Settings window before you can use this connector. Additionally, Origin CA Key is needed for the Cloudflare CA certificates endpoint.
Go to the dashboard and click the profile button in the top right hand corner, then click "My Profile"
At the end of the page, under API Keys section click Create next to Global API Key. Copy this key and enter into the API Key field in the Settings window of the Cloudflare connector.
Add from Manager
The Cloudflare Connector is available in the Connectors Manager in the top ribbon:


Select the Webmaster category and install Cloudflare: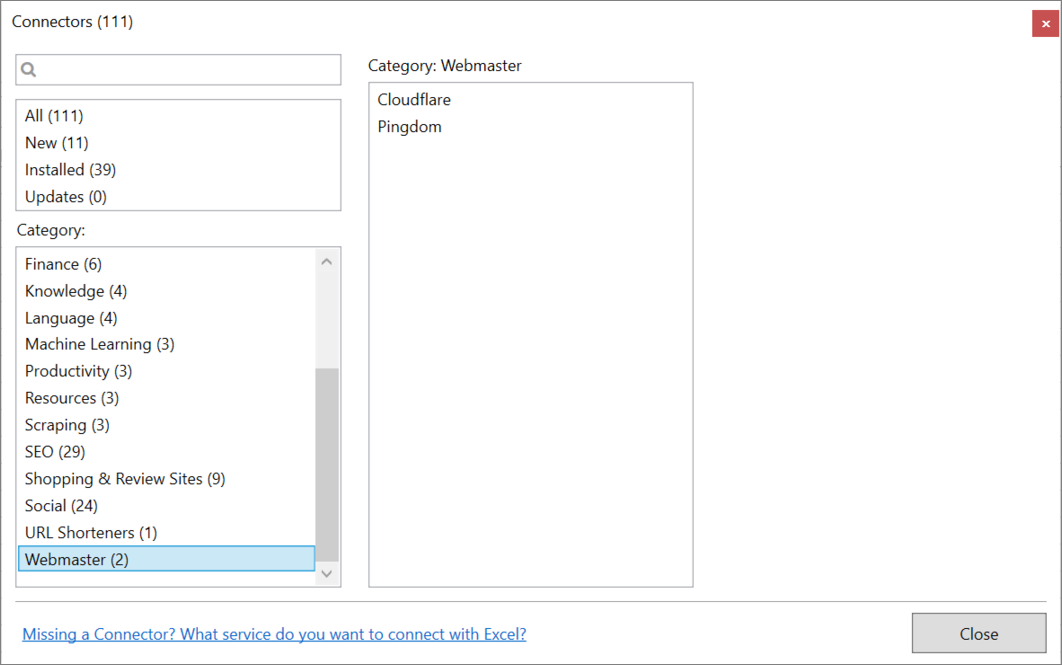 ---
Contribute
This connector suite is open-sourced on GitHub.
---
See
Official Documentation
Cloudflare API documentation v4
Related Functions
---