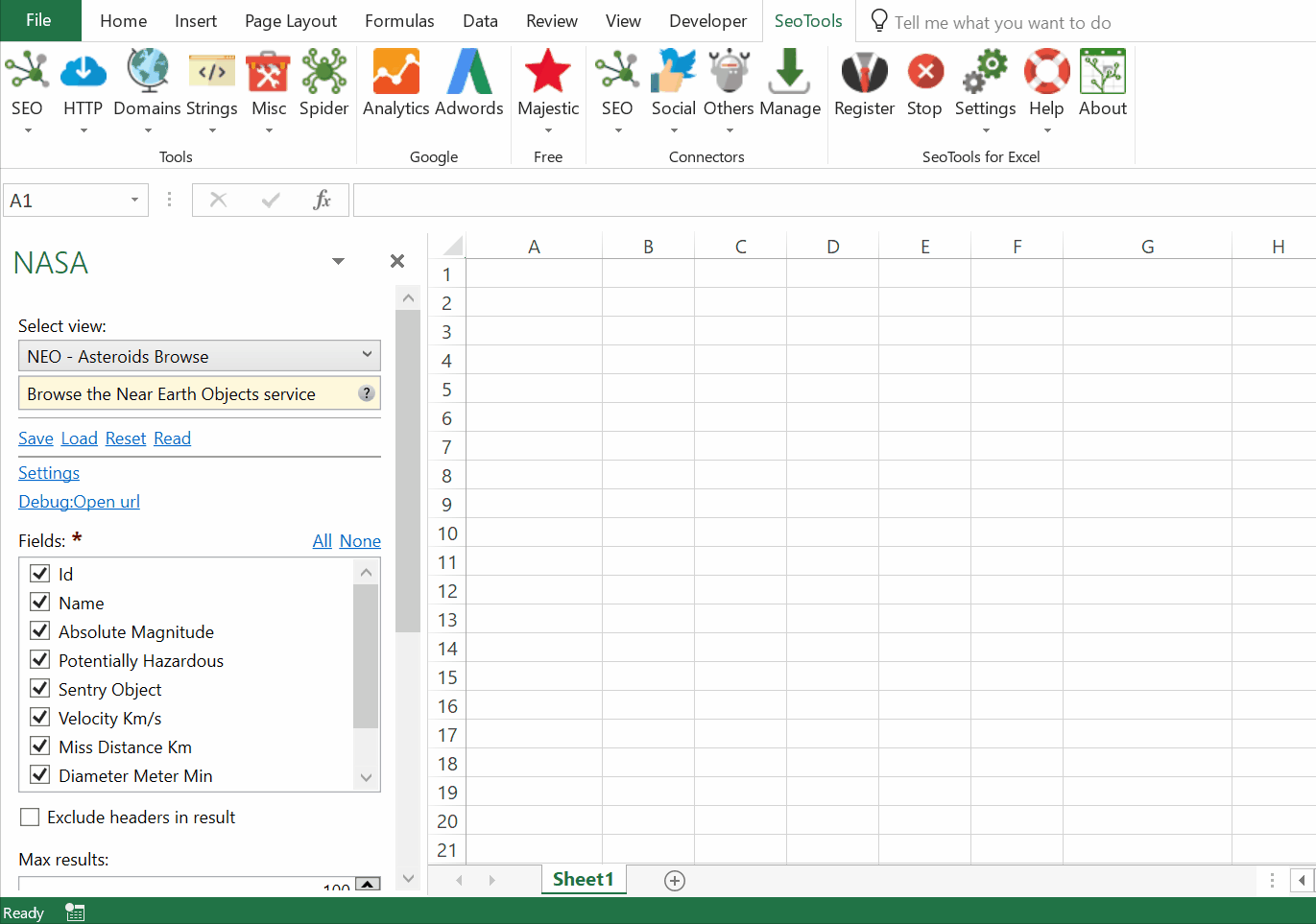 Near Earth Objects
Asteroids Feed - Retrieve a list of Asteroids based on their closest approach date to Earth. Available options:

Date to search for asteroids

Asteroids Browse - Browse the Near Earth Objects service.
Asteroids Lookup - Lookup a specific Asteroid based on its NASA JPL small body (SPK-ID) ID.
Sentry List - Retrieves Near Earth Objects listed in the NASA sentry data set. Available options:

Active Only (true or false)

Sentry Lookup - Retrieves Sentry Near Earth Object by ID.
Statistics - Get the Near Earth Object data set totals. The metrics includes total objects count and close approach count.
Earth
Imagery - Retrieves the Landsat 8 image for the supplied location and date. Available options:

Latitude
Longitude
Dim (Width and Height of image in degrees)
Date - if not supplied, then the most recent image (i.e., closest to today) is returned.
Exoplanets
List - Allows programmatic access to NASA's Exoplanet Archive database. Available options:

Where: Filter based query with syntax: parameter operator value, ex: dec>0. Specifies which rows to return. Use this to search for a range of values, such as rows with a declination greater than 0. Parameters must use a valid column name. See this page for a complete list of columns.
Genelab
Search - Full-text search capability for the GeneLab public data repository. Available options:

Query: Keyword(s) to search on along with optional case-insensitive boolean operators, such as: AND, OR, NOT.
Database: (GeneLab, NIH GEO, EBI PRIDE or MG-RAST)
NASA Images
Search - Search the NASA Image and Video Library. Available options:

Query: Free text search terms to compare to all indexed metadata.
Nasa Id: The media asset's NASA ID.
Photographer: The primary photographer's name.
Center: NASA center which published the media.
Year Start: The start year for results. Format: YYYY.
Year End: The end year for results. Format: YYYY.
Mars Rover
Photos Browse - Image data gathered by NASA's Curiosity, Opportunity, and Spirit rovers on Mars. Available options:

Rover (Curiousity, Opportunity *or *Spirit)
Camera
Date when photos were taken
---
Access
Add from Manager
The NASA Connector is available in the Connectors Manager in the top ribbon:


Head over to the Science Category and install Meetup: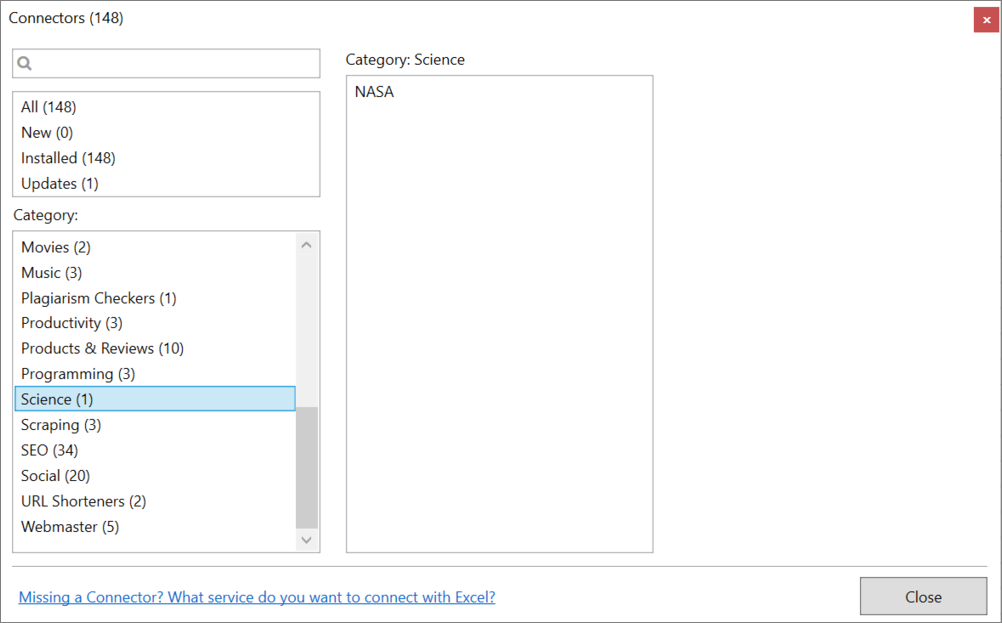 API Key
You can either use the demo key ("demo") or create your own developer key. We recommend creating your own key because the demo key is limited to 50 requests per IP address per day.
Sign up for a Developer key and fill out the form.
On the next page, copy the API key and paste the key in the NASA task-pane inside Seotools:
---
Contribute
This connector suite is open-sourced on GitHub.
---
See
Official Documentation
Resources
---