"SEOlytics is the controlling software for the sophisticated analysis of your SEO activities. Professional online marketing is increasingly becoming a success factor for many companies. Of all measures search engine optimization (SEO for short) plays a notable and vital role, because it increases the likelihood of your website being found on the internet and thus provides you more potential customers."
SEOlytics users can utilize a set of features from SEOlytics directly in Excel. Each function has a wizard found in the SEOlytics menu to help build formulas or directly insert values.
To use SEOlytics in SeoTools you need a SEOlytics pro API key and a SeoTools Pro subscription.
No key? Sign up for a free SEOlytics trial!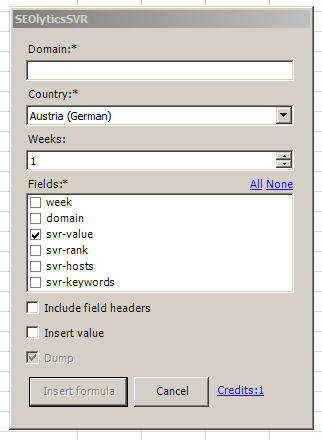 Integrated features:
Backlinks
SVR
MonitoredKeywordRanking
DomainMetrics
DomainMetrics
LinkHistory
---