SeoTool 7.0 - Loads of new Connectors
TL;DR
It's time for a new release with loads of new Connectors, functions and other improvements. All features are now asynchronous and better support retina displays. We've also made some substantial improvements to the loading time and overall performance.
Dowload the latest version of SeoTools!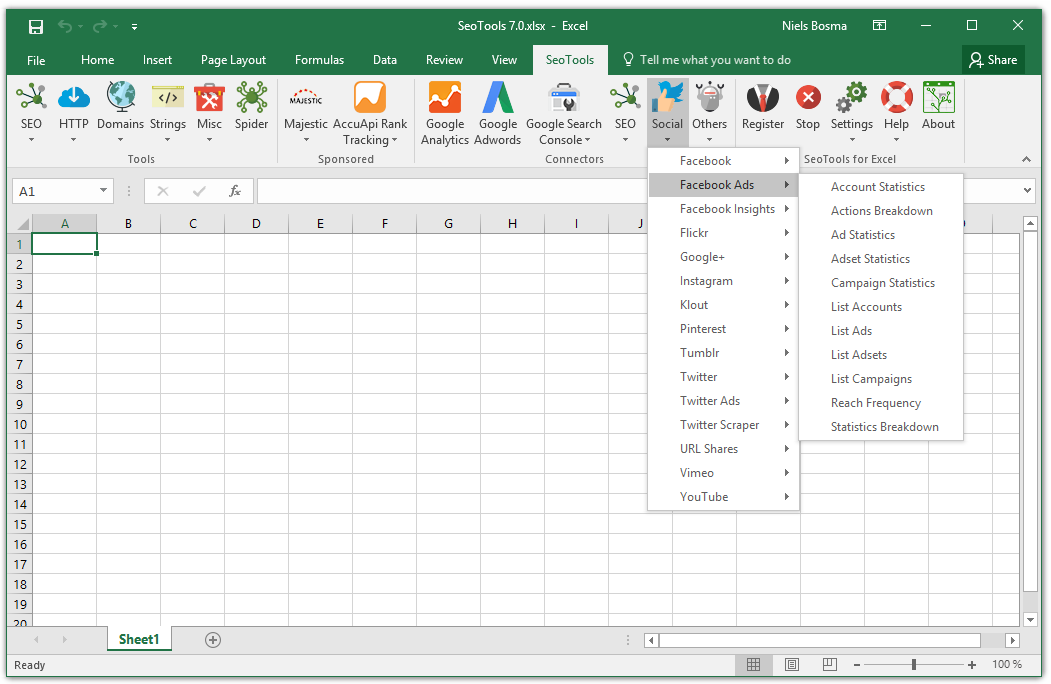 About Pro
We have decided to discontinue the freemium model of SeoTools from this version and forward. It's simply not working out with all the development, maintenance, and support that we're putting into this product. So from now on all users will need to get what we previously called a "Pro" license key. We hope that you understand.
14-day trial keys can be requested directly in the Register menu.
The only free features in SeoTools are now Majestic and AccuApi (read more about this below). These companies have sponsored us to integrate their APIs in SeoTools and can be used without a license key.
AccuApi
We've partnered with AccuRanker to integrate their ad-hoc rank tracking API - AccuApi. Using this Connector you can quickly explore the ranks of a set of keywords within seconds.
Loads of new Connectors
Victor has been busy with building loads of new Connectors. He has also made updates to most of the old ones.
Majestic, Ahrefs, SEMrush, has been converted into Connectors.
New Functions
Other Fixes
All windows now support retina displays.
Substantial improvements to the loading time.
Fixed bug with UnshortUrlfor certain urls.
Fixed major performance bug in Connector engine.
Added setting in SeoTools.config.xml for making asynchronous functions run synchronously (for VBA scripts).
Ability to specify a proxy when registering for SeoTools.
Added support for HTML base tags in the Spider.
Fixed issue with Spider not naming sheets correctly.
Google Analytics and Google Adwords are now asynchronous.
Had to retire the Resize function. Can't make it work with the asynchronous functions properly.
Updated Google Analytics dimensions and metrics.
CsQueryOnUrl and JsonPathOnUrl in Spider.
Dowload the latest version of SeoTools!
Best regards!
/Niels & Victor